Taalyogi Pandit Suresh Talwalkar
An accomplished tabla artist – an expert musicologist – a versatile Guru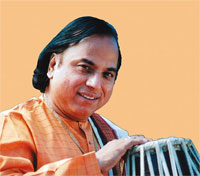 Taalyogi Pandit Suresh Talwalkar, is one of the greatest Tabla exponents of the present times. As an accomplished artist and as a Guru, he has contributed immensely to the glorious tradition of Indian Classical Music.
Pandit Sureshji belongs to the illustrious "Keertankar" family of Shri Dholebuva.
"Keertana" being a classical form of devotional and musical discourse, a liking for the classical music was inculcated in him right in the childhood. Further, at a very young age, his father Shri Dattatray Talwalkar initiated him into the art of "Tabla". He then took his lessons from the veteran gurus, Pt. Pandharinath Nageshkar and Pt. Vinayakrao Ghangrekar. He also learnt the intricacies of Carnatic Layashastra ( a science of rhythm ), from the renowned Mridangam player Pt. Ramnad Ishwaran. This diverse training enabled Sureshji to imbide the subtleties of both, the North and the South Indian music, transforming him into a
"solo performer" with unique expression.
Being privileged with am unparalleled talent, since the early days, Sureshji has accompanied a number of great artists in their concerts.
Pt. Gajananbuva Joshi and Pt. Nivruttibuva Sarnaik are amongst those whom he accompanied the most. He gratefully regards them as gurus and attributes to them the deep insight that, he carries today for the classical music.
Sureshji introduced for the first time, the novel concept of taking vocal accompaniment and added a new dimension and direction to the solo playing of tabla.
His genius is highlighted by the exquisite renderings of "Taal Mala" and "Joad Taal", a contribution applauded alike by connoisseurs and masses.
His unending quest for creativity and innovation, makes him a distinguished composer. His CDs like "Taal Yatra" or "Laya Kalpana" and the group concerts like "Taal Mala" and
"Taal Yatra" can be cited best for the same. His compositions have influenced not only the musicians from India but also from the Western countries and today, many jazz composers seek his guidance in their musical journey.
Sureshji believes that, "Guru Shishya Parampara" is the soul of Indian classical music and he is an ardent follower of the same. As a guru, his teaching abilities and expertise is unmatched.
Today, amongst the best tabla players in the newer generation, majority are his disciples. Under his guidance, they have attained a proficiency, equally high, whether in the solo playing or, in the accompaniment for vocal, instrumental music and Kathak dance.
Students
Vijay Ghate, Ramdas Palsule, Charudatta Phadke, his prodigious son Satyajit and many more, are always quoted in this context. He groomed some of them, like Shantilal Shaha and Rajprasad Dharmadhikari, for the teaching abilities. His rigorous training for "Laya Taal" and its aesthetic to the famous Kathak exponent Shama Bhate, is reflected even in her students.
Today, Vidya Deshpande, Sheela Mehta, and Shambhavi Vaze are other Kathak dancers who continue to be under his training for the same. What is more, Suresji`s knowledge and command in rhythm has enabled him to guide the well known percussionists like Trilok Gurtu, Mukul Dongare, Taalis and others.
Suresji with his wide experience both as a performing artist and as a guru, with his thorough knowledge of music and musicology, and, with his abilities of communicating even the complex concepts of music, is always a prominent speaker in workshops and seminars;
Whether on tabla or, on musicology. The renowned institutions and universities from world over take pride in inviting him as a speaker.
He is also a chief Guru for a project based on Guru Shishya Parampara, initiated by a centurion organization in Kolhapur, India.
Sureshji is conferred upon with a number of awards and honors.
The most prestigious of them include, Pt. Vishnu Digambar Paluskar Award, Vasantrao Naik Puraskar, an award from Naad Brahma as well as from Govt. of Andhra Pradesh and, the title of "Taal Yogi" rendered by the Shankaracharya.
Sureshji is also honoured at the hands of the President of India Dr. A.P.J. Abdul Kalam, with the prestigious "Sangeet Natak Academy Award", a national award for his contribution to the classical music.

He is amongst the top tabla players of India, who travels regularly for his programmes across and outside of his country. He frequently visits Asian and European countries which include Singapore, Thailand, Austria, Schwitzerland, Germany, UK, USA and Canada. He has also toured to Middle-East, Turkey, Norway, Spain, Iran, Sweden, France, Holland and to the African Continent.
Pandit Suresh Talwalkar is indeed a name, synonym for the untiring efforts, devotion, and endless passion in pursuit of promoting Indian classical music.

Sureshji is also recently been honored with the prestigious awards: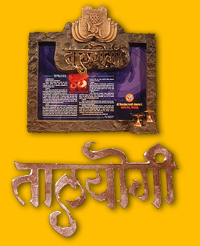 All India Radio Music Competition First Prize in 1966


Andhra Pradesh Government Award in 1998


'Taal Yogi' Title by His Holiness Jagatguru Shankaracharya Shri Vidya Shankar Bharthi, Karveer Peeth, Kolhapur in 2001


'Tyagaraj Award' by Shri Naad Bramha, Chembur in 2002


Sangeet Natak Academy Award in 2004, Awarded by The President of India, Dr. A.P.J. Abdul Kalam Azad


'Vishnu Digambar Paluskar' Award by Gandharva Mahavidyalaya, Pune in 2004


Vasantrao Naik Award, Government of Maharashtra; Awarded by Shri S.M. Krishna, Governor of Maharashtra in 2005


Certificate of honour by 'Abhinav Kala Samaj,' Indore in 2005



'Giants International' Awarded by Shri Praful Patel, Minister of Transportation in 2007





'Key of Thailand' Awarded by HRH Princess Mahachakri in 2006





'Shri Lakshmi Mata Kala Sanskriti Award', Pune in 2007





'Ratna Puraskar', awarded by Swarsadhana, Mumbai in 2008





'Sangeet Poornacharya' Title Awarded by His Holiness Poornavad Vardhishnu Param pujya Shri Vishnu Maharaj Parnekar in 2008





'Shreshtha Kala Aacharya' title awarded by Madhuban, Bhopal by Chief Minister of Bhopal in 2008




Honoured by the Central Illinois and Indian Students Association, Bradley University, USA in 2008


ITC Sangeet Research Academy Award, Kolkata, West zone of India in 2009


Honoured by Swar-sadhana, Pandharpur in 2009



'Madhuritha Sarang Memorial Award' in 2009




Award by Karhade Brahmin Seva Mandal, Dombivali in 2009


Pandit Ram Marathe Award by Bharat Gayan Samaj, Pune at the hands of Jagatguru Shankaracharya Shri Vidya Nrusinhabharati in 2009


Shri Saraswati Puraskar by Kailash Math Trust, Nashik in 2010


Shiv Parvati Puraskar Nashik in 2010